FRESH HERBS.
---
Fresh Herbs. 64.3% of survey takers reported this scent brought on memories immediately. The memories for 63.4% of all survery takers were specific as opposed to general.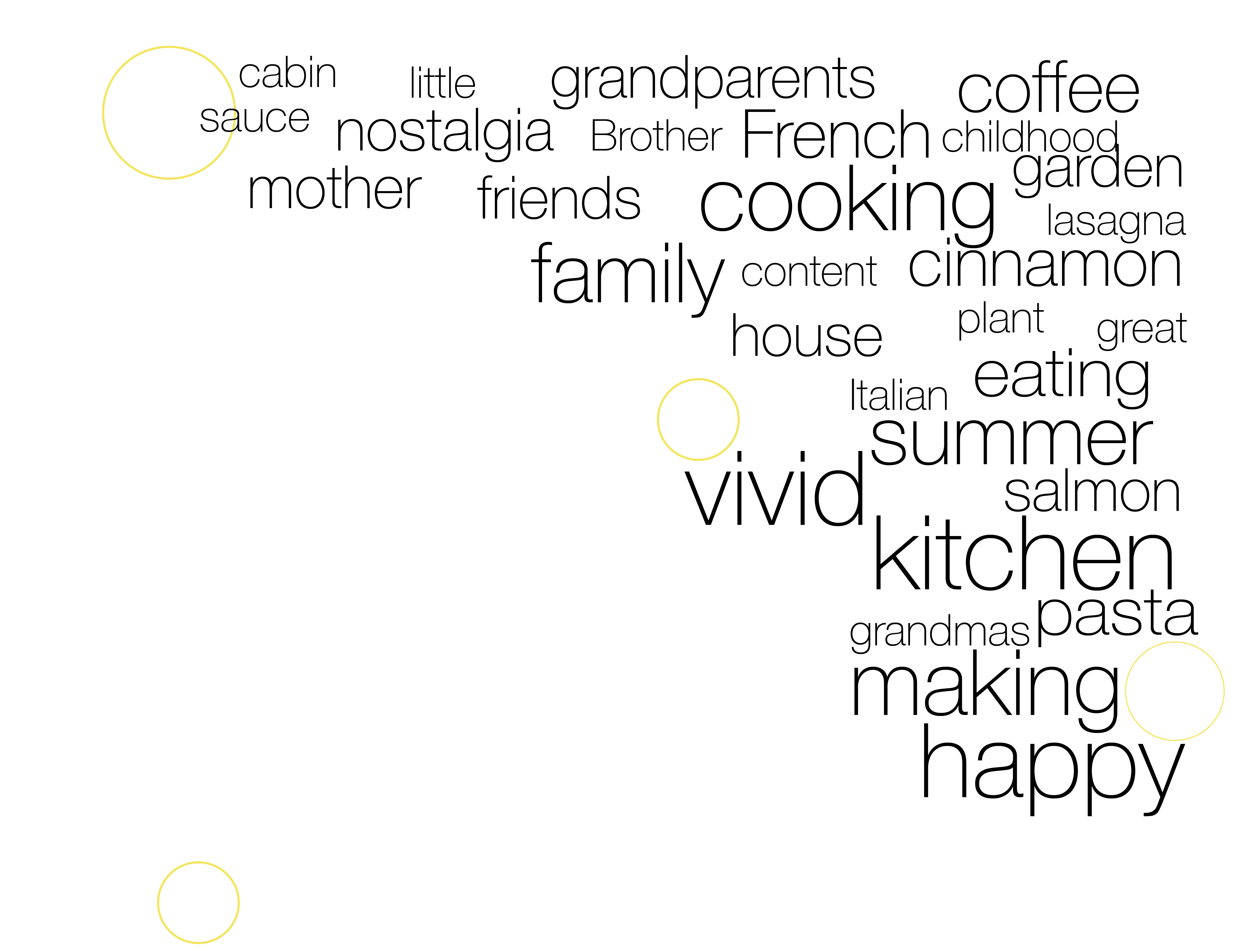 The wordcloud presented was generated using the narratives written by the survey takers when prompted to smell fresh herbs. The most commonly used words were happy, kitchen, cooking, and vivid.


"Oregano reminds me of eating menudo with my grandpa during the winter. I was probably about 8. It makes me happy and content. It is a vivid memory. One small detail I can remember is taking the oregano and crushing it to go in the soup" 2011

"The smell of mint brings me back to my childhood and how I used to cook with my mother. I remember not even liking the dish we were making, but if she said she was making it for my brother I always wanted to help. I would help chop them up and put it into the mixture and mix it all up." 6 years old

"The smell of rosemary reminded me of when my mom first taught me about witchcraft. I was about five years old. She was making some rosemary water for the plants, and I immediately felt relief when I smelled it. The memory is quite vivid, since it's an important part of my life. I can also smell my mom's old perfume and cocoa butter lotion. I can see the garden outside too." July 2009
"I was about 14 years old in a cabin in Tennessee. We had just rented out the place for thanksgiving break and my mom found out there was a stove in the rental. She packed the crockpot with us so we could easily make food for our week long trip. The smell specifically reminded me of her cooking a stew. The details I can remember are the entire layout of the cabin and where we placed the crockpot (the counter over the dishwasher). The item I sniffed was pizza & pasta, most likely nothing like the ingredients she used in the stew. I also hate stew because of the texture and hot liquids but don't mind the smell." 2018

"I remember grilling salmon for a good friend who said he hated fish. I claimed it's because he had never cooked fish properly. ;-) So I got a thick piece of salmon, threw it over an intense high heat skillet so it was seared on both sides but practically sashimi in the middle, and added dill to the side of the plate for him to dip it in. I only did it once, but now he likes salmon. Lol" Around 2008
"I remember being around 12-years-old and gardening with my mother. It is a happy, vivid memory. I remember the old gardening gloves and small gardening tools she used, that were passed down from my late grandparents." Around May 2007
"The memory that comes to mind when I smell fresh basil is making pizzas with my favorite cousin and her family. I remember feeling very happy that my cousin was visiting me. I remember that the pizzas were stuck to the pans that we cooked them on." 4 Years Ago In The Summer

"I was about 13 years old and my parents started planting a large amount of trees and herbs in our backyard and the one that I recognized was mutant because of the strong smell so now when I smell it I remember those summer days where I helped my family plant trees in our backyard." Unclear (Summer Days)
"I was 18 and I was hanging out with my friends in La Quinta. We were staying at my friend's aunt's desert house for a couple of days and my friend and I were in the kitchen making the infamous TikTok pasta. It was around 10 pm and my other friend was sleeping on the couch while we made the pasta." June 2021
"I remember sitting in the Italian restaurant my parents owned, while eating dinner alongside some family members. My dad was working in the kitchen while I ate herb chicken with mashed potatoes. Across from me was my mom and my sister, both of whom had some lemon chicken dish. Beside me were my aunt and uncle who were splitting an order of calamari. I was stressed out however, because I knew I had to get home to finish studying for a vocabulary test in English tomorrow." A Random Thursday in December of 2012

"I was 5 or 6. My mom grew herbs in our backyard garden. We used to play in the mud while she would pick the basil. I associate nostalgia and comfort with this memory, but it wasn't super vivid. I remember one day me and my younger brother ate straight basil and were grossed out by it." 2010
"My family likes to make Vietnamese shrimp spring rolls, and we use a lot of cilantro in them. The first time we made these rolls was the first time I really knew what cilantro was. Since we have had shrimp rolls many times, I don't have any specific memory or even memories attached to it. I kind of picture our kitchen counter though, which is where we make it, and I see myself adding the cilantro, making the wrap, and dipping it into the peanut sauce. The emotions I associate with it are nostalgia and also excitement, since the shrimp wraps were so yummy." 2017
"When I smell fresh basil, I think of growing the herb from seeds with my sister. We would plant the seeds in old Starbucks glass containers until the sprouts reached the lip of the bottle, then relocate them outside in a bigger pot. I would water the plants every day, sometimes multiple times (if they started drooping), then harvest them late in the summer. The memories are very recent -- I started this tradition over quarantine. I mainly recall the satisfaction of harvesting the basil and knowing that the leaves could turn into pesto for pasta that were from our own creation." 6/20 and 6/21
"My dad was making panini sandwiches for my cousins and me after a long day at the lake, and we all waited for our turns for our food to come off the press. We ate outside, still in our bathing suits and our parents waited in the kitchen. We were all tired but prepared the sandwiches with fresh basil and that filled us up." Every Summer from 2014-2018
"It was associated with the time where my aunt made me some tea with fresh herbs for my stomach ache. I remember the smell and the freshness of the tea. It's associated with happiness because although my stomach was hurting I was still happy to have someone care for me as much as she and the people around me did." Last Week of July of 2021

---
SMEMORY.
THEATER.
---

Smemory Theater is a short film that offers an abstraction of the survey results melded with personal experience. The narrative explores the gaps in memory that emerge from anosmia.