Case Room and Horizon House
— Geoffrey von Oeyen
For Geoffrey von Oeyen Design, the Future of Space is examined through new modes of working from home. Two private residences in Malibu were transformed through significant architectural additions and renovations to support the work of internationally recognized professionals, leveraging geometric relationships and site conditions to create visual overlays for the spatial registration of place. These homes serve as optical devices specifically adapted to represent familiar contexts in unanticipated ways, and are designed to transform familiar residential typologies to solve issues of daylight, space, and view as sources of recurring visual discovery. Perspectival alignments, geometric sequences, visual coincidences, shadow projections, daylight diffusion, and other visual and material phenomena can be understood through an accretion of experiences in an around these projects over time, thus revealing prescient spatial capacities latent in each design. In a future where more time at home creates more time to observe and appreciate the visual and temporal qualities of one's environment, spaces that anticipate these phenomena become all the more valuable.
Case Room
Malibu, California
Geoffrey von Oeyen Design
(Photos 1 through 4)
The clients—two attorneys—commissioned an addition of 650 sf to their residence for use as a satellite home office. As Jenna McKnight aptly noted in her story about the Case Room for Dezeen, written prior to the pandemic, the home office has taken on increasing importance in the 21st century as more professionals seek opportunities to work both independently, and with staff, from home. Post-pandemic, the concept of work-from-home has taken on new dimensions, and it is ironic that this project was to be featured on an AIA national convention tour as a prototypical work from home space-- before the convention and tour were canceled and as the owners work from home in the Case Room. The project's double-height space allows partners and their staff to work either together or remotely. A fireside area serves private client meetings, and ample shelving offers storage for legal documents and office equipment. An elevator provides easy accommodation for clients as well as circulation between the library, powder room, and master bedroom on the lower level, and the media room on the upper level; a new hallway with skylights separates the Case Room from the master bedroom and bathroom, and brings in daylight and access to the exterior. For daytime and evening events, a landscaped exterior patio with built-in benches, a fireplace, fountain, and outdoor kitchen were added.
Horizon House
Malibu, California
Geoffrey von Oeyen Design
(Photos 5 - 9)
For two classical musicians with international touring careers, the need for solitude and a connection to nature has taken on new dimensions post-pandemic. Historically, the home has been a venue of classical music concerts. With a global shift away from the interior concert hall experience in an era of social distancing, this home, designed to accommodate indoor-outdoor home concerts, may now serve as their primary performance venue. Architecturally, the Horizon House was designed to be a geometrically precise transformation of a generic 1960s ranch house into an optical device for framing panoramic views of the Pacific horizon in western Malibu, California. Following Robin Evans's concept of Mies van der Rohe's paradoxical symmetries in the Barcelona Pavilion, the horizon is mirrored by horizontal framing devices. The existing house was comprised of two wings on a hillside site overlooking the ocean: a bedroom wing facing approximately southeast, and a garage wing almost due southwest. Unfortunately, the central node of the house, where the two wings met in closest proximity to the ocean, lacked unobstructed ocean views, social space for large gatherings and concerts, and limited outdoor amenities. The clients wanted the design to reconcile the two wings, negotiating two axes of a grid with a third axis, and thereby uniting the two halves of the house to reframe the horizon.
Instagram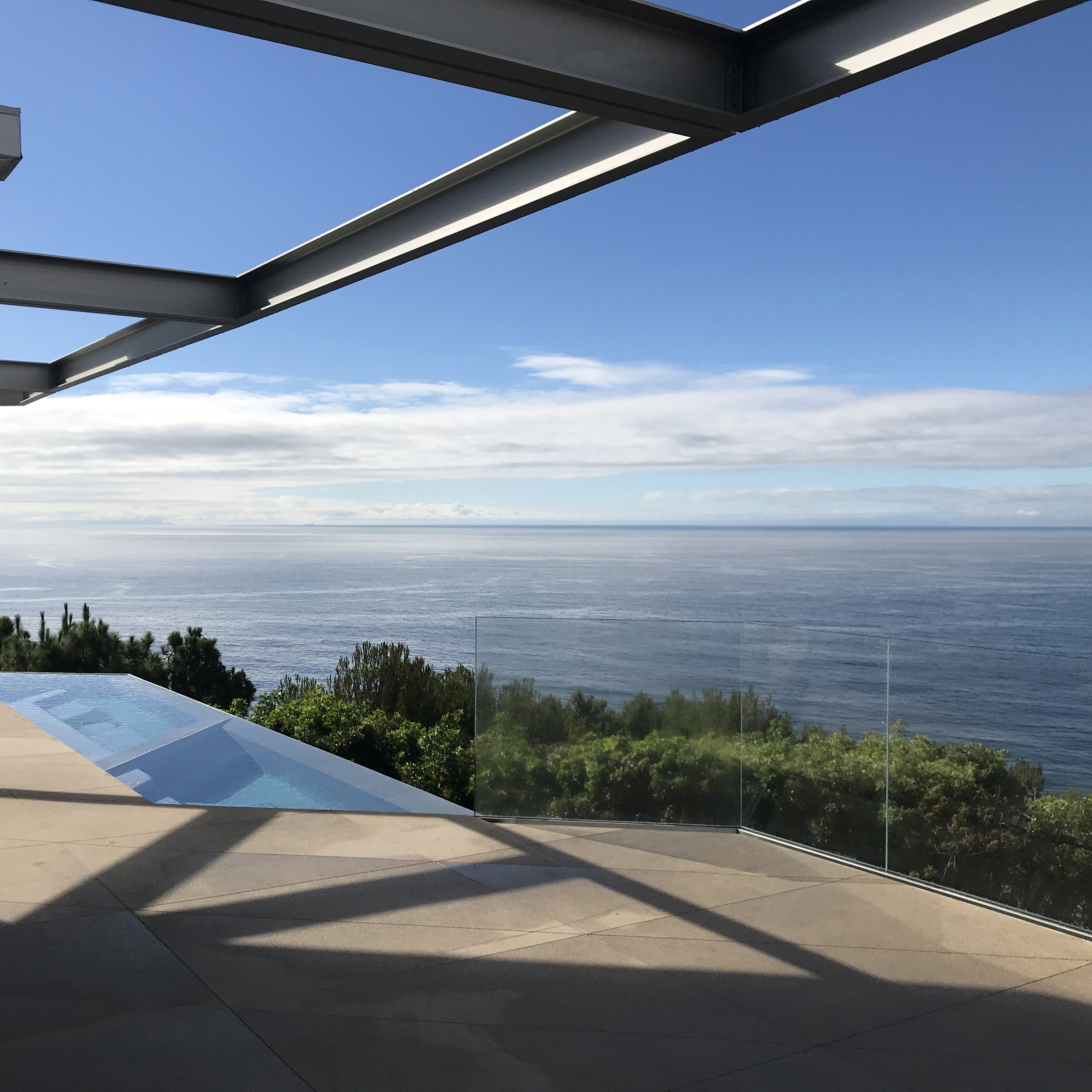 Horizon House, Exterior view from the pool looking west. Photo by
@gvodesign
The clients wanted a house that would be experienced as entirely new, not an existing house and a separate new addition. This created the architectural need to leverage the geometric order of the existing house toward a surgical addition that would allow the house to transition in form and scale from the massing of a traditional ranch on the north façade, facing the driveway, to an abstract, geometric viewing device on the south elevation that could be open to the natural environment.